Is Vitamin C Atomy Color Food good? Price, ingredients and usage
What is Vitamin C Atomy Color Food product information? What are the benefits of this vitamin C pill? What are the points to pay special attention to when using such as side effects as well as how to use the product for optimal effectiveness? Let's learn more about this pill with Pharmacist Nguyen Ngoc Cam Tien!
content
What is Vitamin C Atomy Color Food?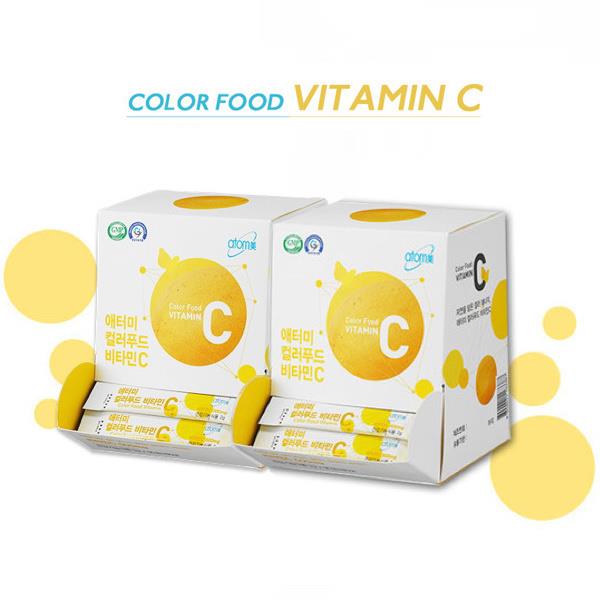 Atomy Color Food product information
Nutrient product Atomy Color Food Vitamin C helps to fight aging and beautify the skin from within.
The product is packaged in a box of 90 packs.
According to researched information, vitamin C component plays an extremely important role in improving as well as strengthening the human body's immune system.
In case of vitamin C deficiency, it can lead to gingivitis, the appearance of hematoma in the roots of the teeth, the periosteum and the rapid aging process. However, the body cannot produce vitamin C on its own. Therefore, it is necessary to supplement this ingredient from external foods through the daily diet.
Atomy Color Food Vitamin C product is synthesized from 7 vegetables with high vitamin C content. Therefore, Atomy Color Food can quickly and effectively supplement vitamin C for the body without going through fussy diets.
Uses of the product Atomy Color Food vitamin C
Atomy Color Food can supplement vitamin C and provide the following great benefits:
Helps prevent oxidation effectively, while helping to increase skin elasticity.
May help prevent cardiovascular diseases.
In addition, the product can lower blood cholesterol levels.
Vitamin C helps protect the skin against sun damage, can strengthen the body's immune system.
Not only that, can help synthesize a large amount of neurotransmitters.
Moreover, vitamin C also participates in the process of eliminating toxins for the body, even though it is heavy metals.
Helps dissolve blood clots. Thereby, helping to reduce the bruises.
See more: Vitamin C skin care: effective beauty trends
How much does Atomy Color Food products cost?
On the market today, Atomy Color Food is sold with a reference price of 525,000 - 580,000 VND for 1 box of 90 packages. Depending on the sales policy and preferential program of each distributor, the price will be different from the reference price. Therefore, you should choose large drugstores, e-commerce sites with reputable stores to find quality products!
Ingredients in Atomy Color Food products
Atomy Color Food launched a 500mg Vitamin C product with 7 food colors, including:
Mango
Tangerine
Pumpkin
Emperor mushroom
Golden Turmeric
Fresh Strawberry
Pomegranate
The main sources of vitamin C products are fresh vegetables and fruits . However, because vitamin C can be easily destroyed when cooked. Therefore, supplementing Vitamin C through nutritional products is a safe - effective - simple measure.
Is Atomy Color Food Vitamin C product really good?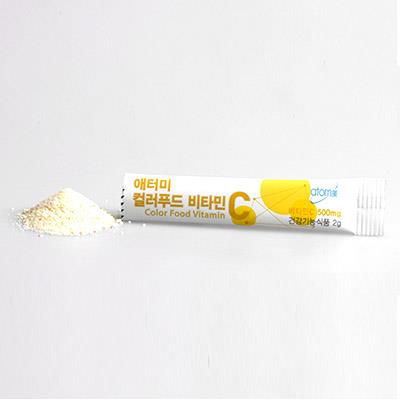 Atomy Color Food Vitamin C products
As can be seen, there are many opinions after using vitamin C Atomy Color Food tablets . In some cases, after taking, the symptoms of the disease improved rapidly. However, there are also other cases that have not shown any signs yet. Therefore, to know exactly if this vitamin C product is good or not, users need to use the right dose and schedule as recommended by the manufacturer or as directed by the doctor. Moreover, the effectiveness of the product depends on many factors such as:
The body of each individual.
Patient condition.
Observe the usage process.
In addition, want the drug can bring out its full potential. In addition to using this product, users need to:
Build a rest regime, have an appropriate eating plan.
Implement a sports regimen suitable for the condition of the body.
Who should use Atomy Color Food
Atomy Color Food products can be used on the following objects:
People often smoke.
The audience is athletes.
The target audience is pregnant women and children.
In addition, it can be used for patients in the recovery phase, needing to use at a dose of 150mg per day.
How to use vitamin C effectively?
Dosage: 1 pack per day.
Usage: should be taken after breakfast or lunch. Note, do not use vitamin C products in the evening.
How to preserve product quality?
Store Vitamin C Atomy Color Food tablets in a cool, dry place.
Keep Atomy Color Food products out of the reach of children and pets.
Do not leave the product in places that are too sunny (exposure to the sun) or where it is too humid.
Important notes when using vitamin C products
Atomy Vitamin C is formulated in the form of a water-soluble powder.
According to the recommendations of the Ministry of Health, the required dose of vitamin C in 1 day for both men and women is: 100 mg per day.
Do not use if the user is allergic to any other ingredients in the product formula.
Atomy Color Food products are not drugs. Therefore, it is not possible to replace the therapeutic function of medicinal drugs.
The above article has stated information about Atomy Color Food Vitamin C products . Note that the information is for reference only, it is best for users to consult the doctor's advice or the manufacturer's instructions carefully!