Effervescent Paralmax Extra and notes when using
What is Effer Paralmax Extra effervescent tablet? In what cases is Effer Paralmax Extra used? What should be noted about possible side effects while taking the drug? Let's take a closer look at SignsSymptomsList about Effer Paralmax Extra in the article analyzed below!
Active ingredients: Paracetamol
Drugs with similar active ingredients: Efferalgan, Hapacol, Panadol,...
content
1. What is Effer Paralmax Extra?
Box of effervescent tablets Effer Paralmax Extra
Ingredients in the formula Effer-Paralmax Extra
Active
Paracetamol…………………….650mg
Excipients
Anhydrous citric acid
Anhydrous sodium hydrocarbonate, anhydrous sodium carbonate, sodium saccharin, sodium benzoate
Aspartame
Kollidon K30
PEG 6000
2. Indications of the drug
Effer-Paralmax Extra is used to treat mild to moderate pain symptoms such as:
Headache, toothache, menstrual pain
Cases of pain due to rheumatism, muscle aches, flu
>> See more: Is your menstrual cycle irregular?
In addition, the drug also helps reduce fever in fevers caused by flu or respiratory infections.
3. Do not take the medicine if
Allergy to paracetamol or to any of the excipients in the formulation
The drug should not be used in patients with glucose-6-phosphate dehydrogenase (G6PD) deficiency.
Patients with severe liver failure should not use the drug for treatment
4. How to use Effer Paralmax Extra effectively?
4.1. How to use
The drug is in the form of effervescent tablets
The drug is in the form of effervescent tablets and is taken orally
Mix the effervescent tablet with about 200 ml of water until the medicine is completely dissolved
Then, drink the solution immediately and should be used according to the doctor's instructions.
4.2. Dosage
Target audience is adults and children over 12 years old
Dosage: 1 tablet each time, every 4-6 hours as needed
Note, do not take more than 6 tablets/day.
5. Side effects
Some symptoms to watch out for when taking the drug
Serious skin reactions such as Stevens-Johnson syndrome, Lyell's syndrome, toxic epidermal necrolysis, and acute generalized pustulosis are rare but potentially fatal.
Skin rashes and other allergic reactions occasionally occur.
In addition, erythema and urticaria are common but sometimes more severe and may be accompanied by drug fever and mucosal lesions. If fever, blisters around natural cavities, should be considered Stevens-Johnson syndrome, must stop the drug immediately.
Effer Paralmax Extra causes skin rash
Uncommon symptoms
Nausea, vomiting
Hematopoietic disorders such as neutropenia, pancytopenia, leukopenia, anemia
Kidney disease, kidney toxicity when abused for a long time
6. Interactions that occur when taking Effer Paralmax Extra
Oral anticoagulants: Long-term oral administration of high doses of paracetamol slightly increases the anticoagulant effect of coumarins and indandion derivatives.
Phenothiazines can cause severe fever when used concurrently with
Alcohol, isoniazid, and anticonvulsants (including phenytoin, barbiturates, carbamazepine) increase the risk of hepatotoxicity when used with this drug.
Cholestyramine reduces the absorption of paracetamol.
Metoclopramide or domperidone increases absorption of paracetamol.
Probenecid may decrease the elimination of paracetamol
7. Notes when using Effer Paralmax Extra
Paracetamol is relatively nontoxic at therapeutic doses and when administered under the guidance of a physician.
Avoid taking many products containing paracetamol because there is a risk of acute poisoning
Use caution when using paracetamol for people with liver failure, kidney failure, alcoholics, chronic malnutrition or dehydrated subjects.
In addition, it should be used with caution in subjects with pre-existing anemia because cyanosis may not be evident
Heavy drinking can increase the hepatotoxicity of paracetamol, so avoid or limit alcohol consumption.
Physicians should warn patients about signs of serious skin reactions described in the SIDE EFFECTS section above.
Attention should be paid to the daily diet, in case the patient has a salt diet plan.
The composition of the drug contains aspartame which is a source of phenylalanine. Caution should be exercised in patients with phenylketonuria.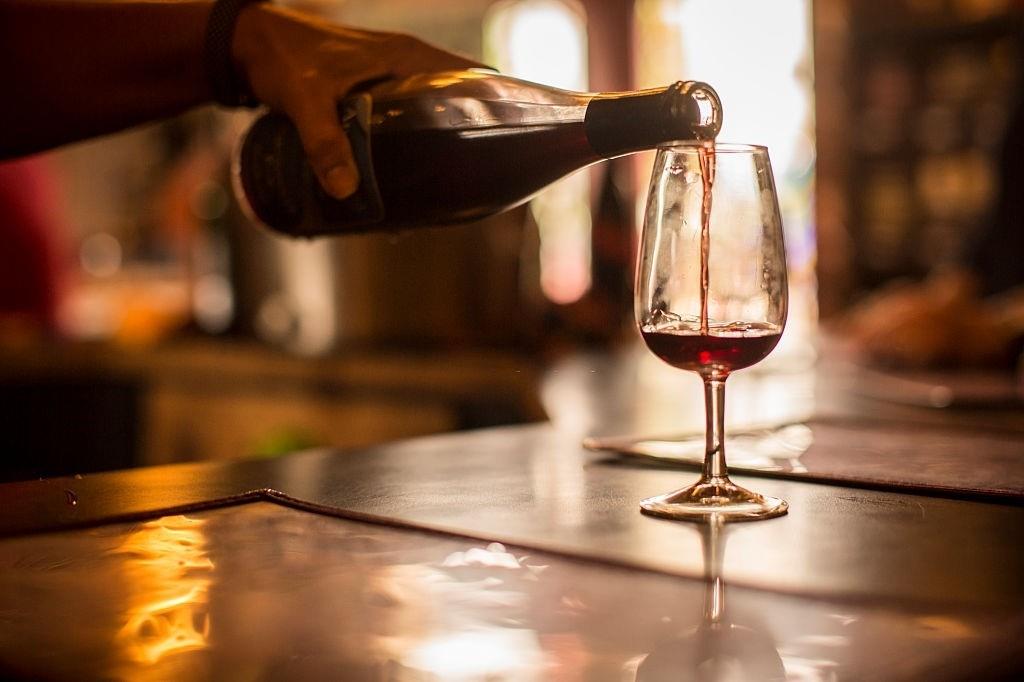 Drinking too much alcohol can cause liver toxicity
8. Special Uses
8.1. Driving and using machines
Effer-Paralmax Extra drug does not cause dizziness, drowsiness, fatigue, visual disturbances that may occur when taking the drug.
Therefore, Effer-Paralmax Extra can be used for subjects that require high concentration when working, such as driving or operating machinery.
8.2. Pregnant women and lactating women
Pregnant and nursing women should not take Effer-Paralmax Extra.
However, if it is absolutely necessary, consult your doctor and carefully weigh the obvious benefits and risks before taking the drug.
9. Treatment of overdose Effer Paralmax Extra
9.1. Symptoms of Overdose
Paracetamol toxicity can be caused by taking a single toxic dose or by repeating large doses of paracetamol (7.5 - 10 g/day for 1-2 days), or by taking the drug for a long time.
Dose-dependent hepatic necrosis is the most serious acute toxic effect of overdose and can be fatal.
Nausea, vomiting, and abdominal pain usually occur within 2-3 hours of ingestion of a toxic dose
Methemoglobinemia, resulting in cyanosis of the skin, mucous membranes and nails is a characteristic sign of acute p-aminophenol derivative toxicity (children are more susceptible).
In severe poisoning, there may be initial CNS stimulation, excitability and delirium. Next may inhibit the central nervous system: stupor, hypothermia, fatigue, rapid, shallow breathing, rapid, weak, irregular pulse, low blood pressure, circulatory failure.
Fatal choking convulsions may occur.
Coma usually occurs before sudden death or several days after being in a coma.
9.2. How to deal with it?
Early diagnosis is important in the treatment of paracetamol overdose.
When intoxication is severe, it is important to receive active supportive treatment.
Gastric lavage in all cases, preferably within 4 hours after ingestion.
The antidote must be given immediately, as soon as possible if less than 36 hours have passed since paracetamol was taken. Treatment with N-acetylcysteine ​​is more effective when the drug is given in <10 hours="" after="" when="" orally="">
Side effects of N-acetylcysteine, can take methionine.
If activated charcoal was used before using methionine, the activated charcoal must be removed from the stomach first. Alternatively, activated charcoal and/or salt bleach can be used as they have the potential to reduce paracetamol absorption.
10. What to do when you miss a dose of Effer Paralmax Extra
Use as soon as you remember that you have missed a dose.
If the missed dose is close to the next dose. Skip the missed dose and follow the dosing schedule.
Do not take a double dose to make up for the missed dose.
11. How to preserve
Keep Effer Paralmax Extra out of the reach of children and pets.
Store the medicine in a cool, dry place. Avoid exposure to direct light or keep the medicine in humid places.
The best storage temperature is < 30="">
Above is the information on the use of Effer Paralmax Extra. Call your doctor immediately if you have any unusual symptoms so that they can be treated and supported promptly!
>> Paracetamol works by relieving mild to moderate pain. Find out now 9 things to keep in mind when using this drug .
Pharmacist Nguyen Ngoc Cam Tien