Why do I have cracks on my tongue?
When you stick your tongue out and look in the mirror, do you see cracks in your tongue? If so, you belong to about 5% of the population with this condition. So what is this situation? Are you sick? Does it pose any danger? Read the following SignsSymptomsList article to learn more!
Tongue fissures are a benign condition that usually appear on the upper surface of the tongue. Sometimes these cracks can extend to the lateral edge of the tongue. The normal blade will be relatively flat along its length. These fissures are usually deep, prominent grooves in the mid-tongue.
Sometimes there are only small wrinkles on the surface of the tongue, making the tongue appear wrinkled. There may be one or more cracks of different sizes and depths.
Cracks on the tongue can be present at birth or form during childhood. The exact cause of these cracks is still unknown. However, it can sometimes be associated with certain medical conditions, such as malnutrition or Down syndrome.
content
1. How does a crack on the tongue manifest?
Cracks in the tongue can make the tongue look like it's split in two. Occasionally there are cases of multiple cracks. The cracks may be isolated or interconnected.
Deep cracks on the tongue are often very visible, anyone can see in the mirror. This makes it easier for your doctor to make a diagnosis. The middle part of the tongue is most commonly affected, but fissures in other areas of the tongue are also present.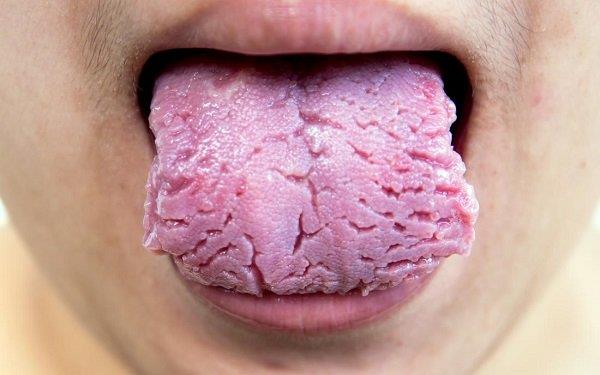 Another condition commonly associated with fissures in the tongue is map tongue, also known as benign migratory glossitis.
The normal tongue is covered with tiny, pinkish-white papillae. People with map tongue will not have these papillae in some areas of the tongue. These areas will appear smoother and redder and often have slightly raised margins.
Cracks on the tongue and the map tongue are both harmless and non-contagious. They usually cause no significant symptoms. However, in some people, discomfort and increased sensitivity to certain substances have been reported. Food debris can become lodged in these cracks. So, if your tongue has cracks, you should brush your tongue regularly. This also helps prevent possible irritation and inflammation.
2. What causes cracks on the tongue?
Researchers have yet to determine the exact cause of cracks in the tongue. This condition can be hereditary, as they are often found in members of the same family. This can also be caused by various medical conditions.
However, it is often assumed that the fissure on the tongue is just one of the common variations of the tongue. These cracks can exist from an early age. However, just like facial wrinkles, the shape of tongue fissures becomes more apparent as you get older.
Men may be more prone to cracked tongue than women. Older people with dry mouth also tend to crack their tongue more.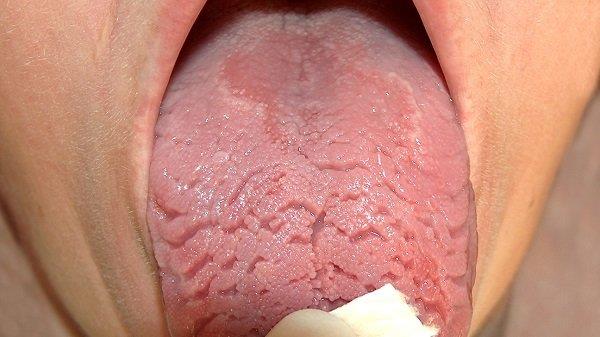 3. Diseases related to cracks on the tongue
Some medical conditions that may be associated with fissures on the tongue include:
Down syndrome. About 80% of children with Down syndrome have fissures in the tongue.
Malnutrition and vitamin deficiency
Psoriasis
Granuloma of the mouth and face, a rare condition that often causes swelling in the lips, mouth, and perioral areas.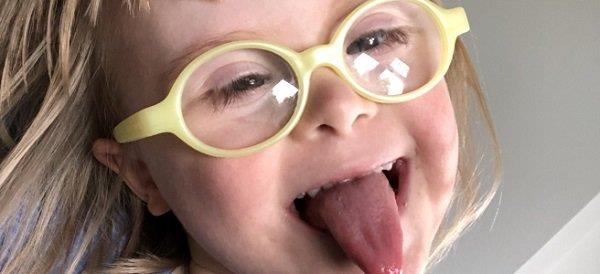 4. How to treat cracks on the tongue?
Cracks in the tongue usually do not require any treatment.
However, it is important to maintain proper oral hygiene. For example, you need to brush the top surface of your tongue to remove food debris and clean your tongue. Bacteria and plaque can build up in the cracks, causing bad breath and increasing the risk of tooth decay. If you just gargle, it is difficult to kill all the bacteria on the tongue. Pay attention to use a soft brush to brush your tongue and brush gently if you do not want to create more damage to the tongue. Some people prefer to use a specialized tongue scraper. You can find these tools at drugstores.
Try to keep up with good oral hygiene habits, including brushing and flossing. Periodic dental examination about 2 times per year for the best oral care.
If you experience severe pain in your tongue or have other lesions besides a cracked tongue, see your doctor for a thorough examination. Your doctor can help you find the best treatment option.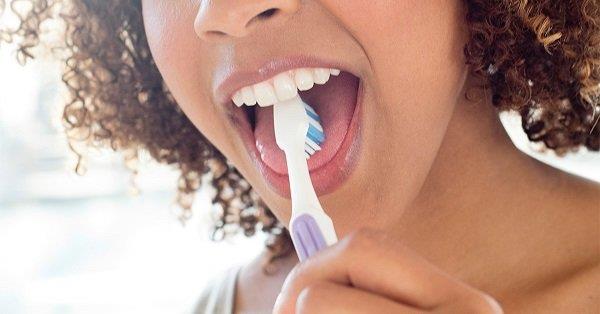 The tongue can provide more health information than you think. However, cracks in the tongue are usually harmless, so there is nothing to worry about. Maintain good oral hygiene so that bacteria and food do not stick to those cracks. Thank you for reading and following SignsSymptomsList's articles!
Dr. Tran Thanh Long