10 causes of epigastric pain you should know
Most epigastric pain is not dangerous, but in some cases it can be a symptom of a stomach ulcer, pre-eclampsia during pregnancy… Understanding the causes of epigastric pain can help You can judge the condition you are having and when to see a doctor.
Epigastric pain is pain that occurs in the lower part of the ribs right in the upper abdomen. Pain often occurs along with other common symptoms of the digestive system including heartburn, bloating… Let's find out with SignsSymptomsList.com 10 causes of epigastric pain to prevent it in time!
1. Indigestion causes pain in the epigastrium
Indigestion often occurs after eating along with symptoms such as burping, bloating, and nausea. When you eat, the stomach secretes acid to digest the food, which can sometimes irritate the lining of the digestive system, causing epigastric pain.
2. Gastroesophageal reflux can cause epigastric pain
This condition occurs when stomach acid or stomach contents travel back up into the esophagus causing pain in the chest and throat that is accompanied by pain in the epigastrium. In the long term, it can cause gastroesophageal reflux disease (GERD) and requires regular monitoring by a doctor. Common symptoms of acid reflux include:
Undigested
Prolonged cough
There is a bitter taste in the mouth
Persistent sore throat or hoarse voice
Feeling like a lump in your throat or chest
3. Esophagitis causes epigastric pain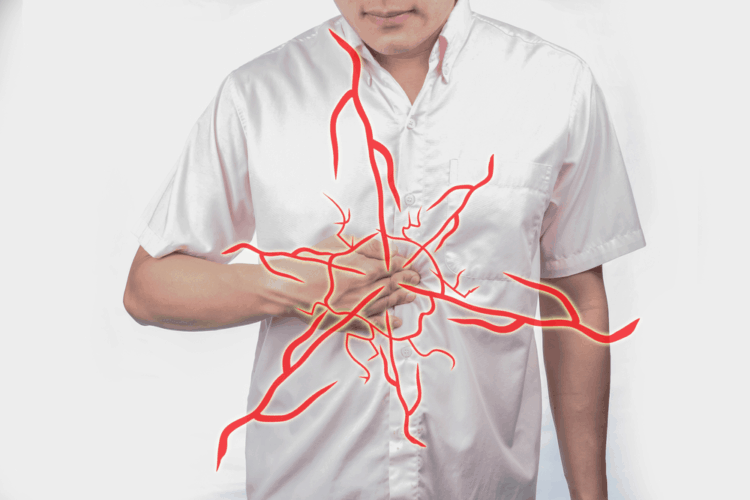 Common causes of an inflamed esophageal lining include acid from the stomach up into the esophagus, allergies, infections, or chronic irritation from medications. If not treated early, esophagitis over time can eventually lead to scarring, narrowing of the esophagus, and increased difficulty swallowing.
4. Habit of eating a lot, eating fast
When you eat too much, the stomach can expand beyond its normal size, putting great pressure on the surrounding organs. This pressure can cause pain in the intestines, making it difficult to breathe because the lungs don't have enough room to expand when inhaling. Habitual overeating can also cause heartburn and acid reflux. This is what causes epigastric pain after eating.
5. Intermittent hernia – the cause of epigastric pain in the elderly
A hiatal hernia occurs when part of the stomach pushes up through the diaphragm and into the chest. This may be due to an accident or a weak diaphragm causing epigastric pain. In addition, other common symptoms of a hiatal hernia include:
Difficulty swallowing
Sore throat
Discomfort in the chest
Irritation in the throat
Intermittent hernias usually mainly affect the elderly.
6. Stomach ulcers cause pain in the epigastrium
Peptic ulcer disease occurs when the lining of your stomach or small intestine is damaged by a bacterial infection or by taking too much of certain medications, such as nonsteroidal anti-inflammatory drugs (NSAIDs), to relieve pain. Common symptoms of peptic ulcer disease can include nausea, vomiting, and feeling full.
The epigastric pain caused by peptic ulcers after a while can cause signs of stomach bleeding such as fatigue, pallor or shortness of breath.
You can learn more: Peptic ulcer disease: Symptoms and treatments.
7. Some drinks are difficult to tolerate and absorb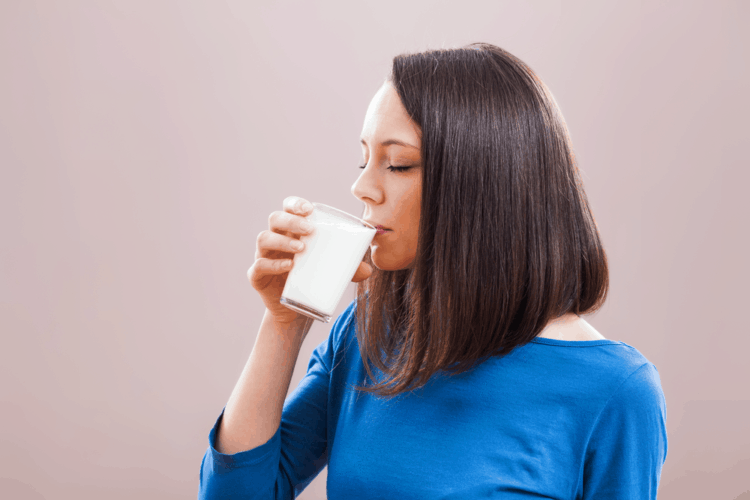 Many people often have difficulty digesting dairy products, cheese, due to lactose intolerance. When your body does not have enough enzyme needed to break down lactose, it causes unpleasant symptoms such as diarrhea, bloating, nausea, stomach pain ...
Besides, consuming too much alcohol at once or for a long time can cause your stomach lining to become inflamed, a long-term inflammation that can lead to stomach bleeding. At the same time, alcohol can also cause conditions such as pancreatitis, liver disease ... causing pain in the epigastrium.
If you drink alcohol, you should limit it to about 1 drink / day to prevent stomach pain or epigastric pain.
8. Gallbladder disorder causes epigastric pain
Problems with the gallbladder can also cause epigastric pain. Gallstones can block the bile ducts or cause cholecystitis. Specific gallbladder disorder symptoms may include:
Jaundice
Vomiting, nausea
Doesn't taste good
Prolonged diarrhea
Clay colored stools
Severe stomach pain after eating
9. Gastritis leads to epigastric pain
Gastritis occurs when the lining of the stomach becomes inflamed due to a bacterial infection, an immune system disorder, or ongoing damage to the stomach. This condition can be acute and only last for a short time, or it can be chronic for many years if you don't get treatment. Common symptoms of gastritis may include:
Black stools
Nausea, vomiting, or vomiting blood
Pain or discomfort in the chest or upper body
10. Pregnancy makes you sore in the epigastrium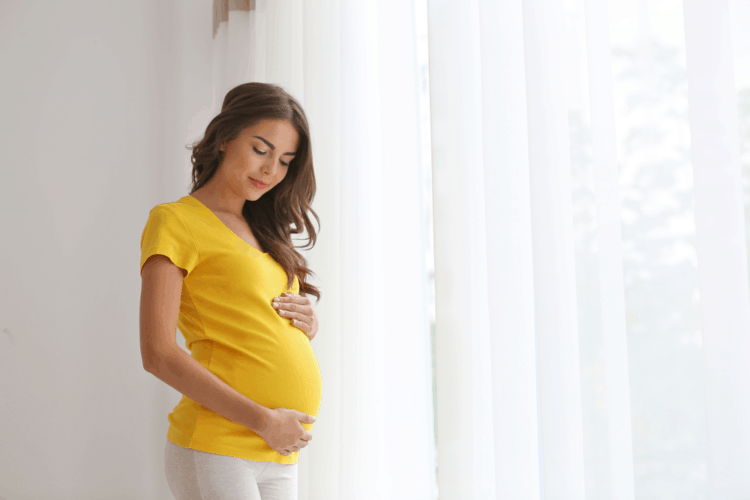 Mild epigastric pain is quite common in pregnant women due to the pressure the growing fetus puts on the abdomen. Some other causes can be due to changes in hormones and digestive system that cause frequent heartburn.
Be aware that epigastric pain during pregnancy is sometimes a symptom of a serious condition called preeclampsia, which requires close monitoring by your doctor and can become life-threatening.
You need close monitoring, blood pressure checks, blood tests and urine tests to accurately diagnose the cause of epigastric pain during pregnancy.
Depending on the cause of epigastric pain, some common treatments are:
Diet or overeating: You should change your diet or lifestyle, including exercising for about 30 minutes a day, choosing healthy foods, etc.
Certain medications: Your doctor may tell you to stop taking these medications and find another way to control your pain by taking an antacid.
Certain medical conditions: Your doctor may prescribe antibiotics as well as long-term treatment to control conditions that cause pain, including gastroesophageal reflux, stomach ulcers, etc.