Abdominal pain at night: Causes and measures to improve
Nocturnal abdominal pain may seem like a normal condition, but it can actually become a sign that you are suffering from acid reflux.
Having to wake up from sleep due to an upset stomach is definitely something no one wants to experience. According to experts, stomach pain at night is quite common, but it also has some potential health problems. The following article, SignsSymptomsList.com will provide you with the necessary information and remedies.
Causes of stomach pain at night
Digestive problems are thought to be the most common cause of nocturnal colic, and they include:
1. Acid Reflux
When stomach acid enters the food pipe, a burning sensation occurs. Gastroesophageal reflux disease (GERD) also causes nausea, vomiting, bloating, sore throat, etc. Some of the most common factors that increase the risk of acid reflux, causing nocturnal abdominal pain include:
Overweight
Drinking too much alcohol
Lie down right after having a meal
Overeating, especially near bedtime
Eat a lot of foods that cause indigestion, such as spicy, fatty, fried foods or eating chocolate and drinking coffee.
2. Ulcers in the stomach, intestines
Stomach and intestinal ulcers can cause a burning sensation in the stomach area. The pain can be worse after eating as well as when the stomach is empty and night is usually the right time for this to happen.
Some of the factors that contribute to the onset of pain include:
H. pylori infection
Abuse or prolonged use of nonsteroidal anti-inflammatory drugs (NSAIDs)
3. Gallstones
The gallbladder is a small organ below the liver that is responsible for releasing bile for digestion. When bile accumulates long enough, it forms hard stones. Nocturnal abdominal pain occurs when gallstones cause a blockage in the duct system of the gallbladder, liver, or pancreas.
High-fat meals often make gallstone symptoms worse. Besides abdominal pain, you will experience a few other problems such as:
Fever
Yellow skin and eyes
Light colored stools
Nausea or vomiting
Exhausted but unable to explain why.
4. Irritable Bowel Syndrome
Some people with irritable bowel syndrome (IBS) will suffer from nighttime abdominal pain in addition to other familiar symptoms, such as bloating, belching, etc., after eating. This digestive syndrome is quite common, especially in people under the age of 50.
5. Celiac disease (gluten allergy)
Gluten allergy or celiac disease refers to a condition in which the body cannot tolerate gluten (a protein found in wheat, barley, and rye), if eaten in these foods, gluten will cause inflammation in the small intestine, from That leads to abdominal pain and discomfort. Other accompanying symptoms include diarrhea, bloating, and extreme fatigue.
About 1 in 100 people globally are affected by celiac disease.
6. Dysmenorrhea or endometriosis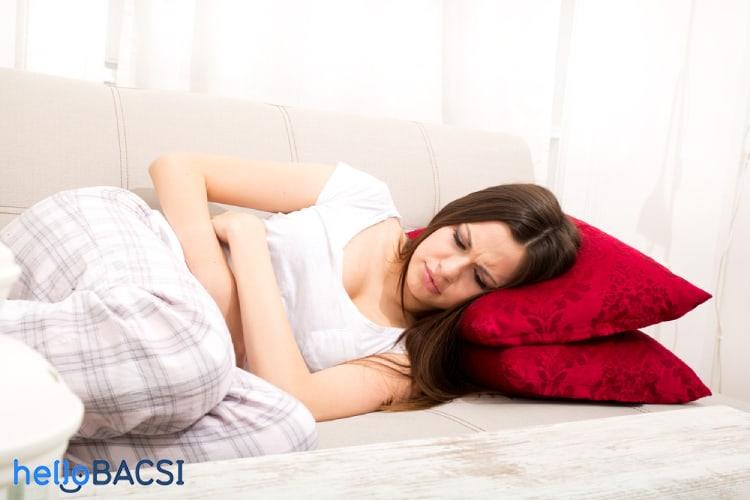 Abdominal pain, bloating, and discomfort often occur during menstruation, when the lining of the uterus is shed. In addition, if you have endometriosis, the tissues of the lining of the uterus will overgrow outside the uterus, causing persistent abdominal pain.
7. Some other reasons
Although rare, severe abdominal pain that occurs suddenly and for no apparent reason can be a sign of a serious health condition, such as appendicitis. In addition, other risk factors for stomach pain at night include:
Kidney stones: When a kidney stone begins to move into the ureter, you may experience sudden, severe pain in your back. That pain can quickly spread to the stomach and abdomen at night.
Gastroenteritis: If you accidentally catch this infectious virus that causes this disease from someone else, you can experience stomach pain while sleeping, vomiting, diarrhea, and nausea.
Food poisoning: Many people with food poisoning will experience vomiting, nausea, diarrhea, or abdominal pain.
Bloating: Bloating is a very common cause of stomach pain, especially at night when digestion slows down.
Constipation: Waste that accumulates in the colon can cause distention and put a lot of pressure on this area, which in turn causes pain throughout the abdomen.
Pulled or stretched tissues: The act of lying down can increase pressure or change blood flow to damaged tissues in the abdomen, adding to pain and discomfort.
Abdominal pain at night, when to go to the doctor?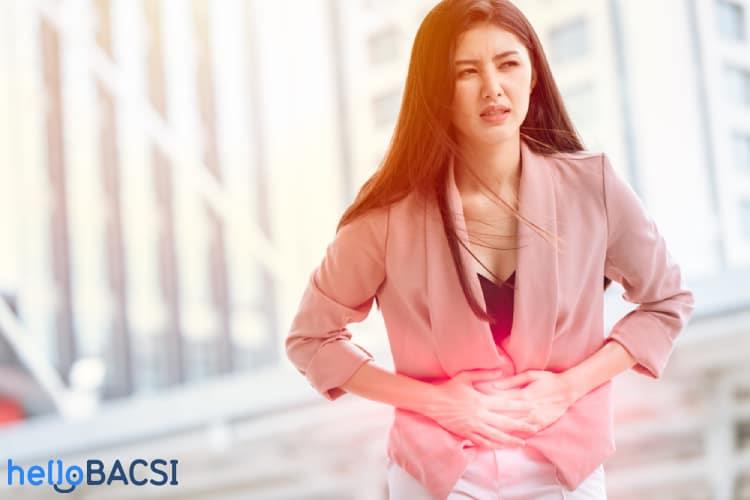 Most cases of nocturnal abdominal pain are not serious. If symptoms occur more than once a week or become persistent and prevent you from getting a good night's sleep, affecting your next day's activities, see your doctor for a checkup.
Symptoms associated with nocturnal abdominal pain that require medical attention include:
Severe or persistent pain that doesn't go away despite taking pain relievers
Persistent nausea or vomiting, especially if vomiting blood
Sudden unexplained weight loss
Swelling or inflammation of the stomach area
Stomach hurts to the touch
Joint and muscle pain
Yellow skin and eyes
Shortness of breath…
Tips to prevent stomach pain at night
Some antibiotics are very helpful against H. pylori bacteria. In addition, pain relievers can be used to treat severe cases of a few digestive problems.
Surgical options also treat more serious health conditions associated with nighttime stomach pain.
Elevate the pillow a little
Add probiotics
Avoid or limit alcohol intake
Avoid eating near bedtime or overeating
Consult your doctor about the use of antacids
Avoid eating rich or fatty foods, coffee or chocolate at night.